Access
By Airplane
Haneda Airport to Iwakuni Kintaikyo Airport: About 95 minutes
From Iwakuni Kintaikyo Airport: About 30 minutes by bus, about 25 minutes by taxi
By Shinkansen
Tokyo Station to Shin-Iwakuni Station: About 4 hours
Shin-Osaka Station to Shin-Iwakuni Station: About 2 hours
Hiroshima Station to Shin-Iwakuni Station: About 16 minutes
Hakata Station to Shin-Iwakuni Station: About 90 minutes
From Shin-Iwakuni Station: About15 minutes by bus, about 10 minutes by taxi
By JR Sanyo Main Line
Hiroshima Station to Iwakuni Station: About 50 minutes
Miyajimaguchi Station to Iwakuni Station: About 15 minutes
From Iwakuni Station: About 20 minutes by bus, about 15 minutes by taxi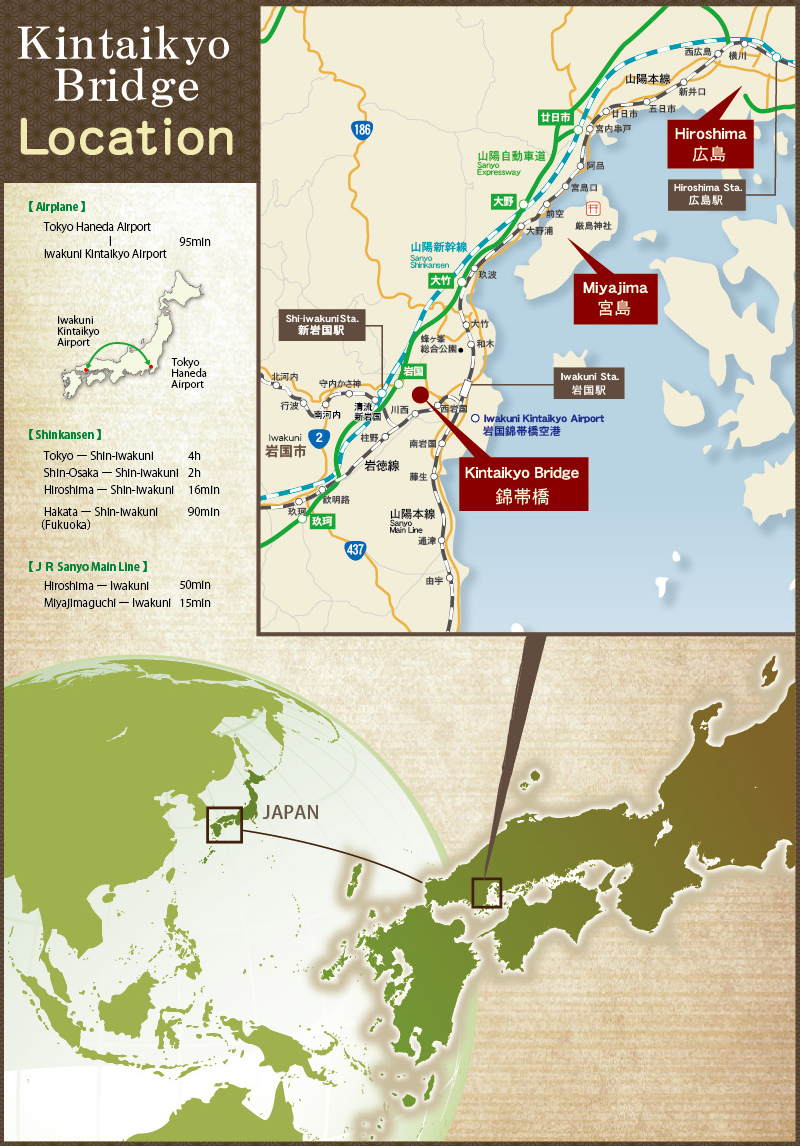 About Admission to the Bridge
Kintaikyo Bridge Admission Ticket (Round-trip Only)
Adult (12 years old and over)
Individual: 310 yen
Group: 260 yen
6-11 years old
Individual: 150 yen
Group: 120 yen
Set Ticket (*Kintaikyo Bridge Admission Ticket,
Ropeway (Round-trip) & Iwakuni Castle)
Adult (12 years old and over)
Individual: 970 yen
Group: 760 yen
6-11 years old
Individual: 460 yen
Group: 350 yen
*Group fees are applied to parties with 15 or more people.
Admission Hours
Admission is possible 24 hours a day.
The tollbooth is open from 8:00 to 17:00.
(Extended to 18:00 during peak sightseeing season, and to 19:00 in summer.)
When the tollbooth is unattended, please insert your fare into the nighttime toll box and cross the bridge.