Beauty

In Any Era
Many artists have depicted the Kintaikyo Bridge, including the world-famous ukiyo-e artists Katsushika Hokusai and Utagawa Hiroshige.
In addition, Atsuhime, who married into the Tokugawa Shogun family from Satsuma Domain, made a detour expressly to visit the Kintaikyo Bridge when she was traveling to Edo. Although at the time permission was required in advance for crossing the bridge, it is recorded that  Atsuhime was unable to obtain permission to cross the bridge and impatiently forced her way across the bridge without waiting.
In approximately 350 years since its construction, the beauty of the Kintaikyo Bridge has attracted many people, not only artists, in any era.
We hope to leave this beauty unchanged for future generations. It can be said that the wishes of many people have preserved the Kintaikyo Bridge in an unaltered form in its location.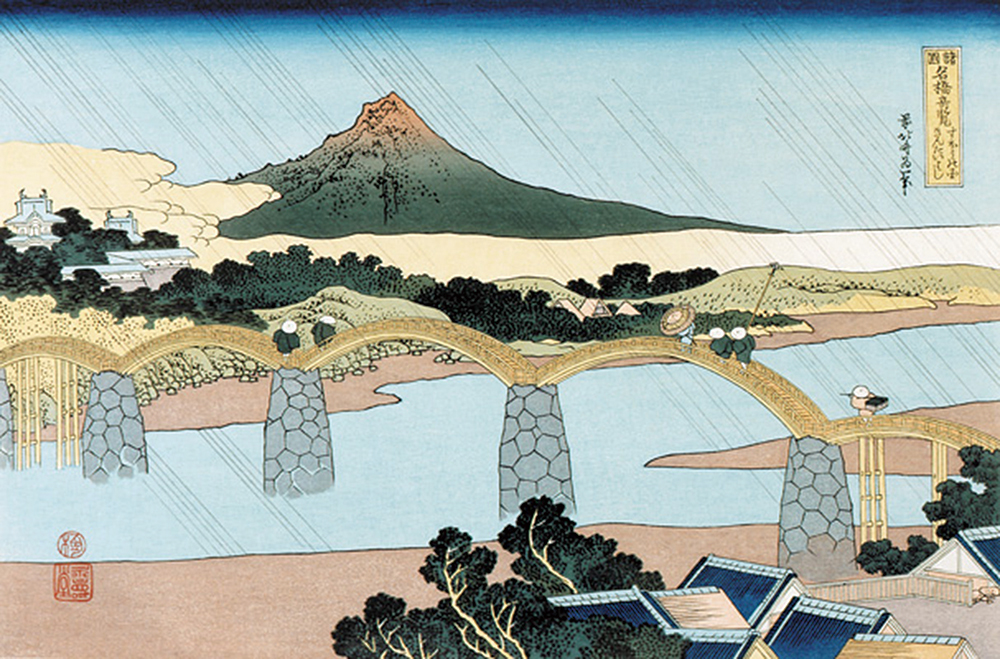 Katsushika Hokusai
"The Splendid View of Famous Bridges in Various Provinces : Kintaikyo Bridge in the Province of Suo"
From the collection of Hagi Uragami Museum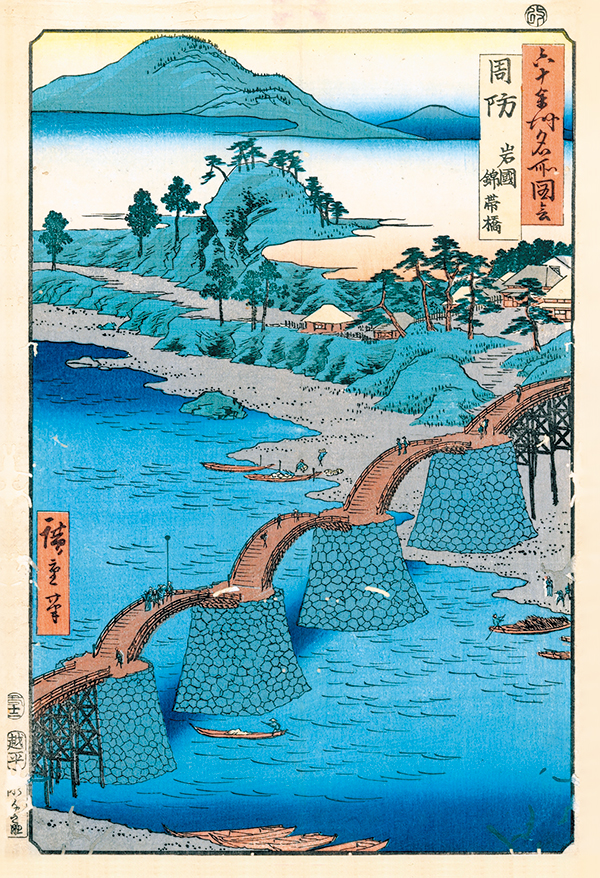 Utagawa Hiroshige
"Suo Province: Iwakuni, Kintaikyo Bridge" from the series "Famous Places in the Sixty-odd Provinces"
From the collection of Iwakuni Chokokan Museum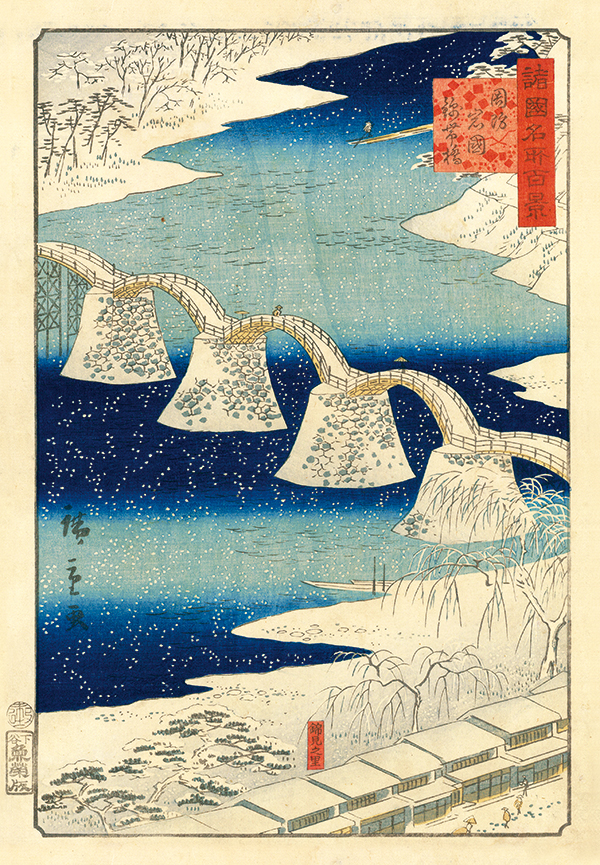 Utagawa Hiroshige II
"Kintaikyo Bridge at Iwakuni in Suo Province" from the series "One Hundred Famous Views in the Various Provinces"
From a private collection
Unlimited Beauty
Pleasing to admire from afar, to gaze at up close, and to cross.
The Kintaikyo Bridge possesses an unlimited beauty that is not swayed by the location of the observer, or the time or season.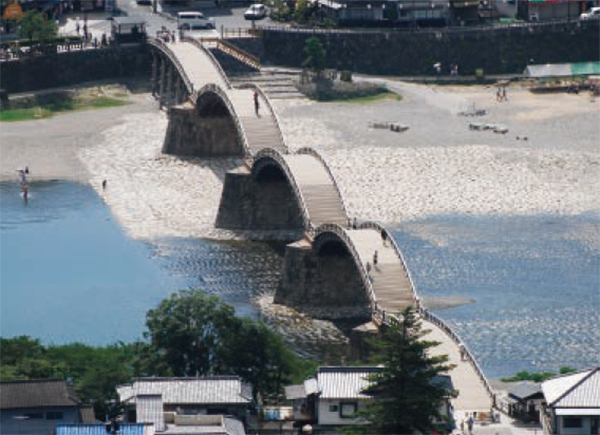 Rhythm of the Arches
When you look down at the Kintaikyo Bridge from the Iwakuni Castle, a five-part rhythmical work of formative art attracts your attention.
As if a pebble has been tossed onto the surface of water, the arches are formed rhythmically, captivating the observer. In this way, there is a beauty of "movement".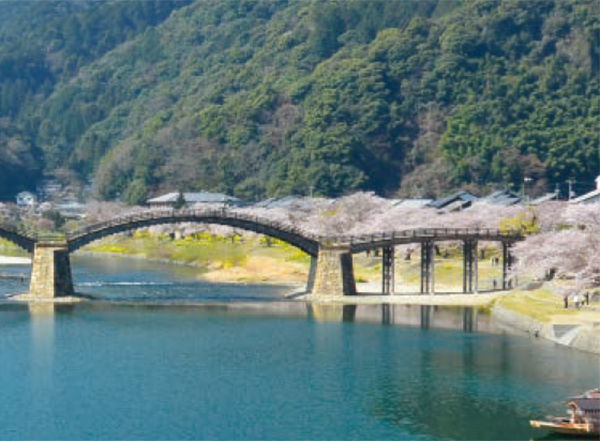 Harmony with Nature
If you gaze at the Kintaikyo Bridge from afar, you will notice that it is surrounded by abundant nature. Mount Shiroyama, where a virgin forest still remains, is in the background, with the townscape arranged in consideration of the view, and the Nishiki River, sparkling like a mirror. The Kintaikyo Bridge seems almost as if it is part of nature itself.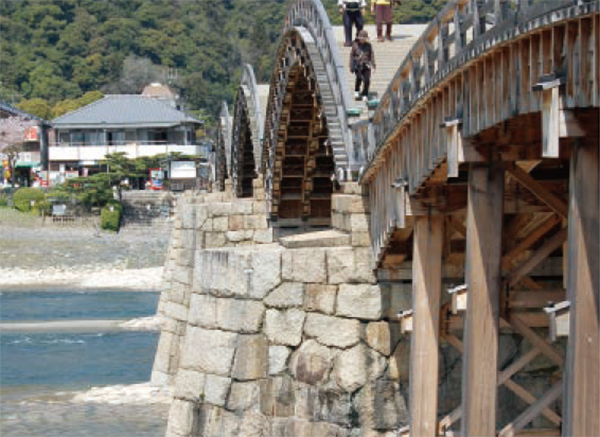 Stone and Wood
The wing-like wooden arches rise above the imposing stonework piers. This contrast of solidity and lightness creates an allure that is unique to the Kintaikyo Bridge.
Moreover, the bridge's stable shape calms the observer's mind.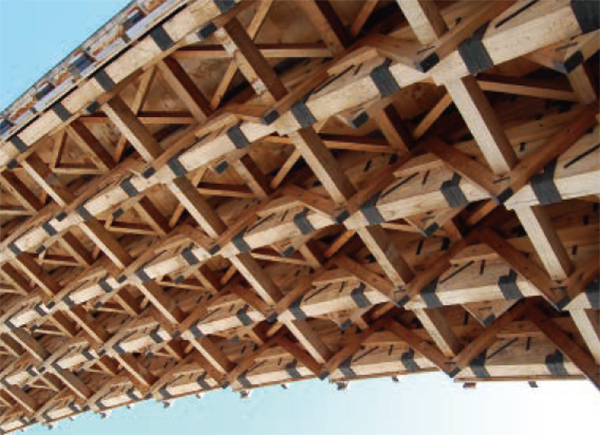 Simple and Complex
In contrast to the flat, simple upper part of the arches, when the arches are viewed from underneath, their appearance is surprisingly complex. The beams, crossbeams and other parts maintain a certain regularity, and the form of complication is very pleasing to the eye.